Real Clear Politics reports on a forthcoming film from conservative filmmaker Stephen K. Bannon that could only be intended to refresh the Tea Party's memory about why they love Palin so much. It is the result of a request by a Palin aide for some promotional videos: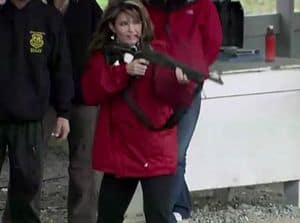 He'd make a feature-length movie, Bannon told Mansour, and he insisted upon taking complete control and financing it himself — to the tune of $1 million.
The fruits of that initial conversation are now complete. The result is a two-hour-long, sweeping epic, a rough cut of which Bannon screened privately for Sarah and Todd Palin last Wednesday in Arizona, where Alaska's most famous couple has been rumored to have purchased a new home. When it premieres in Iowa next month, the film is poised to serve as a galvanizing prelude to Palin's prospective presidential campaign — an unconventional reintroduction to the nation that she and her political team have spent months eagerly anticipating, even as Beltway Republicans have largely concluded that she won't run.
Bannon, a former naval officer and ex-Goldman Sachs banker, sees his documentary as the first step in Palin's effort to rebuild her image in the eyes of voters who may have soured on her, yet might reconsider if old caricatures begin to fade.
Palin's Secret Weapon: New Film to Premiere in June [real clear politics]
In related news, a former Palin aide has written a "scathing" tell-all portraying the former Alaska governor as "incompetent and ethically compromised" and extremely vindictive and un-Christian.
Watch Martin Bashir's interview with former staffer Frank Bailey, AFTER THE JUMP…