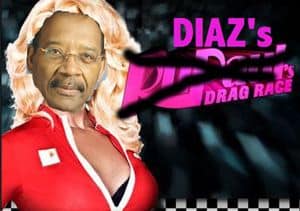 Activist group Queer Rising is reacting to New York Senator Ruben Diaz's plans to hold an anti-gay marriage march in the Bronx on Sunday, the same day as the New York AIDS Walk by holding a protest along the AIDS walk route.
The group writes, in a press release:
Queer Rising is inviting AIDS Walkers and passerbyers to stop by "Ruben's Drag Race" at Riverside Drive and West 95th Street to send Senator Diaz a message: HIV must end; the hatred must end; the violence must end; the bullying must end; the teen suicides must end. "There is no place in New York City for the kind of display he has organized and New Yorkers repudiate his divisive agenda of hate."
Queer Rising will have a large cut-out Ruben Diaz figure replete with "fabulous costume changes" that people will have the opportunity to take photos with at the AIDS Walk for $1.00. All proceeds of will be donated directly to GMHC, with suggested directing of funding to HIV/AIDS work specifically in the Bronx.
"If Senator Diaz cannot be bothered to advocate on his constituents' behalf, we will have to work to make up the difference and let them know that they are not abandoned," said Goodman.
Photos will be available on a Queer Rising Tumblr page.