Martin Golden (pictured), R-Brooklyn, Thomas Libous, R-Binghamton, and Ruben Diaz, D-Bronx introduced a bill in the NY Senate today that would void the state's recognition of same-sex marriages performed in other states.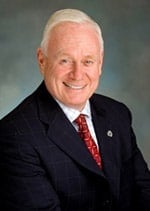 The language in the bill:
Section 1. Section 6 of the domestic relations law is amended by adding a new subdivision 4 to read as follows:
4. MARRIAGES  CONTRACTED BETWEEN TWO PERSONS OF THE SAME SEX, REGARDLESS OF WHETHER SUCH MARRIAGE IS RECOGNIZED, SOLEMNIZED OR LEGAL IN ANOTHER JURISDICTION, SHALL BE CONSIDERED VOID IN NEW YORK.
S 2. This act shall take effect immediately.
Politics on the Hudson reports that the bill was immediately criticized by Senate Democrats:
In recent years, New York has administratively and through the courts granted same-sex couples married in other states many of the same rights afforded to heterosexual couples. But New York has yet to make same-sex marriage legal, a key fight this year in the Legislature.
Golden's bill would be a step back for gay rights, Democrats said.
"It's unfortunate the Senate Republicans continue to show hostility to protecting equal rights for all New Yorkers. Whether it's on rent regulations or marriage equality, Marty Golden has proven he is out of touch with his district by once again putting the political priorities of his Republicans colleagues over the city he's supposed to represent," said Senate Democratic spokesman Austin Shafran.
There is no matching bill in the NY Assembly.