Professional bowler Scott Norton has come out of the closet. Norton cites the coming out earlier this week of Phoenix Suns CEO and President Rick Welts as the catalyst to his decision.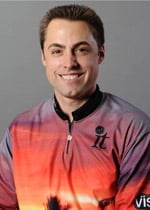 He writes in a piece for the Professional Bowlers Association:
While many athletes wait until they retire to officially come out, the fact that Mr. Welts has the courage to do so while still actively involved with the NBA has encouraged me to also acknowledge that I am a gay athlete.
It is extremely important for me to come out to show other gay athletes, both current and future, that it is important to come out to show that we are just like everyone else. Being gay doesn't define who I am as a person or as a professional athlete. I'm also a professional bowler, lawyer, caring, compassionate, strong, and many other things.
It's important to show people that being gay has nothing to do with one's ability to do anything as a man, least of all compete at the highest level of sports.
Read the whole piece HERE.
It's amazing to see what can happen when people like Rick Welts lead by example!