Assemblyman Daniel O'Donnell (pictured)has introduced a bill to legalize same-sex marriage in New York, the Times Union's Jimmy Vielkind: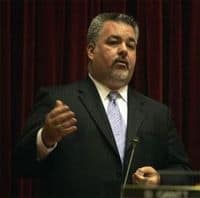 It's unclear whether it will advance through the Assembly (or whether Speaker Sheldon Silver might wait for the Cuomo bill, or whether there's a switch-a-roo….) but O'Donnell included this sentence after the happy quotes in his press release: "In order to ensure the bill has the time necessary to be taken up by the Assembly before the end of this year's session, Assembly Member O'Donnell plans to circulate A7600 among his colleagues for co-sponsorship until May 25th."
We'll see how the next two weeks go. To me, this indicates something of a rift between legislators who have been championing the bill — O'Donnell and Sen. Tom Duane — and the new lobbying front, with which Cuomo is closely coordinating.
Gay rights advocates gathered in Albany on Monday to rally near the Capitol and to lobby legislators individually. Lawmakers in both chambers had been deferring to Mr. Cuomo, who has made legalizing same-sex marriage a top priority and this week began a statewide tour to bolster support for that and other issues, to introduce his own bill. But at a time when no Senate Republican has yet voiced support for a same-sex marriage bill — and prospects for victory seem uncertain at best — Mr. Cuomo has held off, with the apparent support of advocates and Senate Democrats who support the bill.
"It is obvious that now, more than ever before, the people cannot, and will not, wait any longer for our government to enshrine equality for all in our state's laws," Mr. O'Donnell said in a statement.
The bill is live here.
Meanwhile, the National Organization for Marriage (NOM) has introduced a new ad and pledging $500,000 for advertising and lobbying. NOM has pledged another $1 million to oppose candidates who support marriage equality in the 2012 elections.
Watch NOM's ad, AFTER THE JUMP…