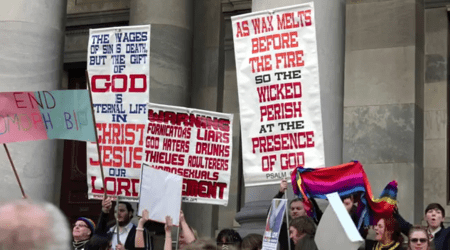 A peaceful protest by marriage equality advocates in Adelaide Australia on the International Day Against Homophobia ended in violence yesterday after members of the Adelaide Christian Street Church disrupted the demonstration. 
Around 200 people met yesterday at Victoria Square, before the rainbow flag-waving procession moved off to Parliament House.

South Australian Legislative Council member Ian Hunter addressed the crowd, along with queer youth workers who said youth health and welfare was being threatened by the closure of service projects. Lesbian and Uniting church minister Reverend Sue Wickham conducted a marriage ceremony for ten couples.

Along the way, several members of Adelaide Street Church marched ahead of the colourful crowd, wielding huge signs saying 'God hates sinners' and quoting the Bible. They also attempted to drown out the marriage rally with their own announcements via loudhailer.
Protest organizer Jason Virgo witnessed a wheelchair-bound LGBT supporter get yanked out of her wheelchair by the Christian protesters:
"I heard reports of someone being punched by one of the street preachers and I know that a woman of the gay and lesbian community who wheelchair bound and a street preacher were struggling over a banner. The street preacher pulled it away from the woman, which obviously caused her to fall from her wheelchair. But instead of stopping there the Street Preacher kept pulling and this threw her to the ground.

"You would think someone who claims to represent god would stop struggling with this woman after she was thrown on to the ground."

He adds: "I blame any violence on Saturday on the street preachers, they set out from the beginning to disrupt and antagonize people from the outset. Police removed two of the street preachers and no one from our community. I think that speaks for itself."
A photo gallery of the event is here.
Watch a report of the incident, including an interview with the woman in the wheelchair, AFTER THE JUMP.