Osama bin Laden's body has been buried at sea, according to U.S. officials, the AP reports: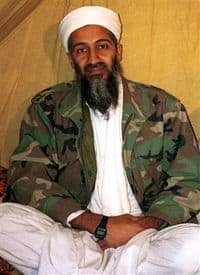 After bin Laden was killed in a raid by U.S. forces in Pakistan, senior administration officials said the body would be handled according to Islamic practice and tradition. That practice calls for the body to be buried within 24 hours, the official said. Finding a country willing to accept the remains of the world's most wanted terrorist would have been difficult, the official said. So the U.S. decided to bury him at sea.
The official, who spoke Monday on condition of anonymity to discuss sensitive national security matters, did not immediately say where that occurred.
ABC News The Note adds:
U.S. officials tell me the last thing they want is for his burial place to become a terrorist shrine.
To avoid that, an informed source tells me, the intention is the bury his body at sea — leaving no definitive location for the final resting place of his body.
A senior administration official tells my colleague Jake Tapper this about the body:  "We are ensuring it is handled in accordance with Islamic practice and tradition. It's something we take seriously and therefore it's being handled in an appropriate manner.‬"
Already, hoax death photos have emerged online.
U.S. officials told CNN that photos of a deceased bin Laden do exist but have not been released.
Previously…
Video: Fire at Bin Laden Compound During Raid [tr]
Breaking: President Announces Osama Bin Laden Is Dead [tr]