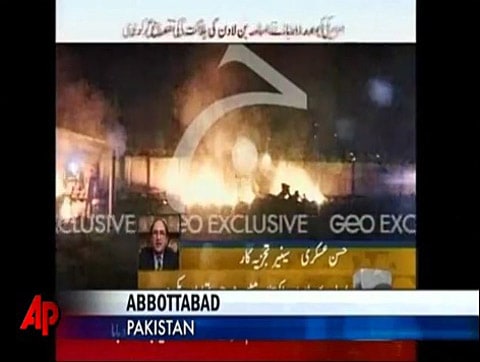 A Pakistani television station broadcast pictures of a fire at a compound thought to be the scene of the raid that killed Osama bin Laden.
Watch, AFTER THE JUMP…
Politico reports that the mansion was extremely conspicuous:
The structure, which has been described as a mansion, was on a "large plot of land" in a "relatively secluded" area, a senior administration official told reporters on a conference call. The residence itself was "eight times larger" than other homes in the area, said the official, who refused to be identified.
***
The security measures at the compound were "extraordinary," the official said, describing walls that were 12 to 18 feet high and topped with barbed wire, in addition to walls on the inside. Access to the mansion was restricted with two security gates, officials said.
Another sign was that the residents of the mansion burned their trash, unlike their neighbors, who simply put their garbage outside, they said. The property, valued at $1 million, had no telephone or Internet access, the White House said. It was "custom built to hide someone of significance," the official said.
Previously…
Breaking: President Announces Osama Bin Laden Is Dead [tr]