NYC Mayor Michael Bloomberg gave a major speech this afternoon on marriage equality at the Cooper Union.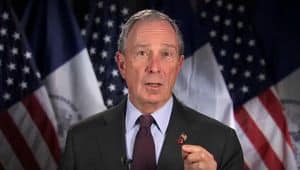 Said Bloomberg in his remarks:
In talking to State legislators who do not yet support marriage equality, I can sense that many of them are searching their souls for answers – and they are torn. Like all of us, they have friends and family and colleagues who are gay and lesbian. They know gay and lesbian couples who are deeply in love with each other – many of whom are loving and devoted parents, too. They know those couples yearn to be seen and treated as equal to all other couples. And they often hear from their own families – especially their children – that this is a civil rights issue. I hope they listen to their kids carefully and make them proud with their foresight and courage.
Adding:
It is my hope that members of the State Senate majority will recognize that supporting marriage equality is not only consistent with our civic principles – it is consistent with conservative principles. Conservatives believe that government should not intrude into people's personal lives – and it's just none of government's business who you love!
Read the full speech, AFTER THE JUMP…


New Yorkers United for Marriage released several statements in response to the speech:
"As somebody who has worked for and known Mayor Bloomberg personally for many years, I know first-hand not only how important this issue is to him, but how committed he is to seeing that all loving couples are able to marry," said Brian Ellner, Senior Strategist at the Human Rights Campaign. "With the steadfast support of the mayor, Gov. Cuomo and a solid majority of New Yorkers, we're confident that marriage equality will be the law of the land come the end of June."
"The people of New York City can count on knowing exactly where their mayor stands on issues – and Mayor Bloomberg has been an outspoken supporter for opening marriage in New York to loving, committed lesbian and gay couples," said Ross D. Levi, Executive Director of the Empire State Pride Agenda. "We appreciate that the Mayor has travelled to Albany to speak directly with the legislators, has made a personal financial commitment to support this effort, and is yet again publicly renewing his commitment to marriage equality."
"Mayor Bloomberg's strong support for marriage equality legislation adds to the long list of elected officials across party lines who have called on legislators to give all loving and committed couples the ability to marry," said Gregory T. Angelo, Chairman of Log Cabin Republicans of New York State. "With polls showing a strong majority of New Yorkers supporting marriage equality, we are hopeful that Mayor Bloomberg's statements will encourage Republicans — and all New York legislators — to be on the right side of history next month."
"Loving and committed same-sex couples have waited long enough for the freedom to marry the person they love," said Cathy Marino-Thomas, Board President for Marriage Equality New York. " Mayor Bloomberg and Gov. Cuomo have shown great leadership on this issue, and with their help, we hope the wait is almost over." "Recent polls have consistently shown that a super-majority of New Yorkers agree with Mayor Bloomberg and Gov. Cuomo that every New Yorker in a loving and committed couple should have the freedom to marry the person they love," said Evan Wolfson, founder and President of Freedom to Marry. "It is time that legislators in Albany do the right — and popular — thing and make this a reality."