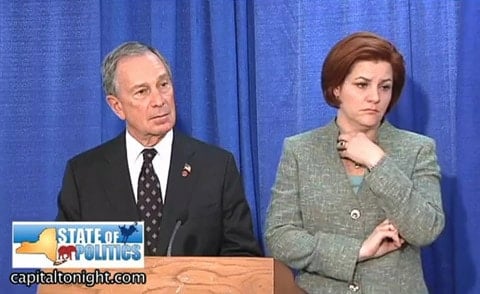 NYC Mayor Michael Bloomberg lobbied Senate GOP on marriage equality today in Albany.
Watch his presser with NYC City Council Speaker Christine Quinn, AFTER THE JUMP…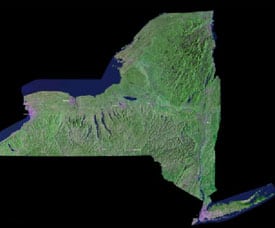 Liz Benjamin at Capital Tonight reports:
Bloomberg met with Senate Republicans today to lobby for same-sex marriage legalization. Before the news conference, he met with Sens. Greg Ball, Andrew Lanza, Jack Martins and John Flanagan. He was scheduled to meet with Senate Majority Leader Dean Skelos, as well as Sens. Charles Fuschiilo, Roy McDonald and Mark Grisanti.
NYT City Room adds:
The mayor was joined at the Capitol by Christine C. Quinn, the New York City Council speaker, who is openly gay. Ms. Quinn praised Mr. Bloomberg for making the trip, saying that one-on-one conversations would be most effective in making the case to lawmakers.
"I think it's really hard to look the mayor of the City of New York in the eye and say the people he represents who are LGBT are less than the people he represents who are heterosexual," she said. "I think that's really hard for senators to do."
The NY Daily News adds that Bloomberg suggested he would be more inclined to put his money behind those who support marriage equality:
"I will support people that stand up for marriage equality," said Bloomberg, who has donated hundreds of thousands of dollars to the Senate Republican Conference in recent years.
When asked if he would rule out supporting any senator that voted against gay marriage, Bloomberg said no, but "I certainly will concentrate and focus more on those that do."
Finally, Benjamin adds, Bloomberg called for a floor vote:
"I think the public has a right to know where their legislator stands and the only place where you can really find that out is when they have to register that vote publicly," Bloomberg said. Pronouncement before, off the record, couched in terms where it's hard to know what they really mean is just not appropriate, these are up or down votes."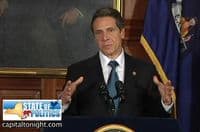 You may recall that Governor Andrew Cuomo told reporters last week that there would be no vote on marriage equality unless the votes are there in the Senate.
Activist group Queer Rising earlier today criticized Cuomo:
"Cuomo's support for marriage equality is appearing more to be a political stunt than an act of commitment to do the right thing," said Queer Rising's Natasha Dillon. "The governor has not done the lobbying necessary to change votes. He had misled New Yorkers into believing that passage of marriage equality was going to happen this year and now is backtracking. It is our responsibility to hold him accountable for the promises he made to get elected."
The AP also reported that Senate Democratic leader John Sampson of Brooklyn doubted that Skelos, who met with Bloomberg today, would bring the measure to the floor for a vote:
"I don't expect Sen. Skelos to bring it to the floor, if the Conservative Party has anything to do with it," Sampson said in an interview. "I believe the governor is doing all he can to push the issue, but there is deafening silence from the Senate majority."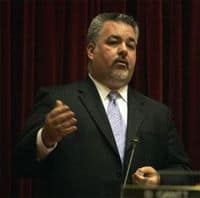 Meanwhile, Capitol Confidential reports that assemblyman Daniel O'Donnell is pushing ahead with his marriage equality bill on that side of the legislature, though not necessarily with the support of the LGBT advocacy coalition New Yorkers United for Marriage, which issued a statement saying they are not in support of "one-house" bills:
"As members of New Yorkers United For Marriage, we stand together. Our objective is simple: the passage of a law that gives all New Yorkers the freedom to marry.
Now is the time to focus on demonstrating that New Yorkers of every political stripe and walk of life overwhelmingly support marriage equality legislation and ensuring that our elected officials will support its passage. Advancing a bill that passes both Houses of the New York legislature, and can be signed into law by Governor Cuomo, is the only measure of success. We do not seek advancement of "one-house" bills or another failed vote in the Senate.
All of us are committed to this legislative strategy which requires persistence, patience, dedication, discipline and most of all unity. In this way, we will bring marriage equality to New York State. We thank Governor Cuomo for his leadership and stand together for equality."
Watch Bloomberg's press conference today, AFTER THE JUMP…
Bloomberg: Floor Vote Shows Where Lawmakers Stand [capital tonight]
A Busy Albany Day For Marriage Equality [nydn]
Bloomberg Visits Albany to Lobby for Same-Sex Marriage [city room]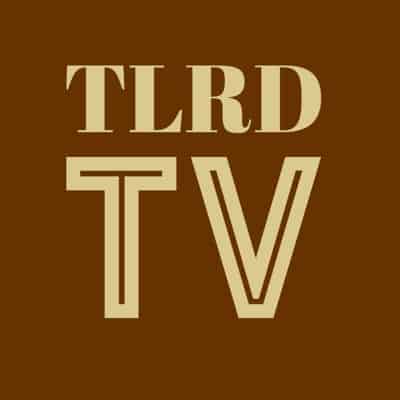 Above, a few of the answers on marriage equality. Below, the full press conference:
Also, here's part of a meeting today between ESPA's Ross Levi, HRC's Kevin Nix, and MENY's Cathy Marino Thomas and the editorial board of Lo.Hud.com.
At the meeting, advocates expressed optimism that a bill would pass this session.