Under pressure from evangelical groups, Brazil's president Dilma Rousseff has pulled the distribution of kits meant to combat homophobia to schools, the BBC reports: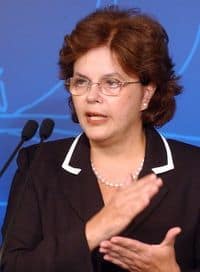 A government spokesman said President Rousseff had viewed the material personally and decided to suspend its distribution.
"She didn't like what she saw," Gilberto Carvalho said.
He said President Rousseff was unhappy with the footage and believed it did not offer an objective picture of homosexuality. The "anti-homophobia kits", as they are known in Brazil, were about to be rolled out by Brazil's ministry of health and the ministry of education. Several members of Brazil's chamber of deputies with strong evangelic Christian beliefs said the sex education packs encouraged homosexual behaviour.
LGBT advocates are angry and demanding she reverse her decision.
In March, during a visit to the country by President Obama, he and Rousseff announced a "special rapporteur" for LGBT rights as part of an ongoing commitment between the U.S. and Brazil.
Under a section labeled "Democracy, Human Rights, Racial Equality and Social Inclusion," the leaders recognized the need to promote respect for the human rights of LGBT people.