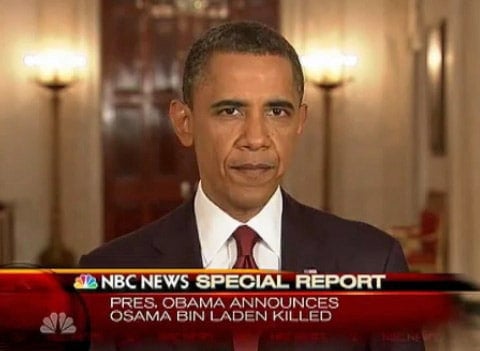 President Obama announced late last night that Osama bin Laden has been killed and that his body is in the possession of the United States government. The President will made the announcement during a special press conference.
According to The Washington Post, the world's most well-known terrorist and the man responsible for the 9/11 attacks "was killed in a mansion close to the Pakistani capital."
Update: The President has confirmed that the CIA killed bin Laden during a fire fight at a compund in Abbottabad, Pakistan.
The NY Times on how the government went about its task:
"Mr. Obama said in his national address on Sunday night that it took months to firm up that information and last week he determined it was clear enough to authorize a secret operation in Pakistan. The forces attacked the compound in what Mr. Obama called a 'targeted operation' that left Mr. bin Laden dead. 'No Americans were harmed,' Mr. Obama said. 'They took care to avoid civilian casualties. After a firefight they killed Osama bin Laden and took custody of his body.' President Obama noted that the operation that killed Mr. Bin Laden was launched with the cooperation of Pakistani officials, but the fact that Mr. Bin Laden killed in an deep inside Pakistan was bound once again to raise questions about just how much Pakistan is willing to work with the United States, since Pakistani officials denied for years that Mr. Bin Laden was in their country."
He was found in a custom built $1 million mansion.
The NY Times on how the announcement was leaked:
"According to Brian Williams, the 'NBC Nightly News' anchor, some journalists received a three-word e-mail that simply read, 'Get to work.'"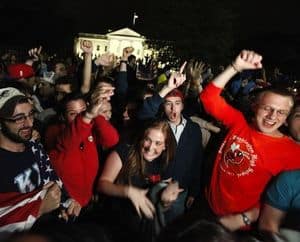 A crowd began to grow outside of the White House celebrating the news of bin Laden's death. According to ABC News:
"As the President began his statement announcing the death of Osama bin Laden inside the White House, a large crowd of people, about 200 and growing, had gathered outside the White House gates on Pennsylvania Avenue, waving flags and dancing. They sang the 'Star Spangled Banner' in unison and chanting 'USA! USA! USA!' They also just sang, 'Na na na na — na na na na …Hey hey goodbye' in reference to Osama bin Laden. The crowd is swelling by the minute. People are running to join the group with American flags and there is lots of dancing and cheering. Complete jubilation."
Crowds are also reportedly gathering outside of Times Square and Ground Zero in New York City.
The Atlantic's Marc Ambinder has more on that spontaneous ceremony: "Back on the street, random shouts punctuated the air. People were literally running to get to the White House. No one was quite sure what they were going to do once they got there, but they were going to get there as fast as they could."
Gay D.C. residents were among those joining the celebrations, the Washington Blade reports.
Mayor Bloomberg has released a statement:
"After September 11, 2001, we gave our word as Americans that we would stop at nothing to capture or kill Osama bin Laden. After the contribution of millions, including so many who made the ultimate sacrifice for our nation, we have kept that word. The killing of Osama bin Laden does not lessen the suffering that New Yorkers and Americans experienced at his hands, but it is a critically important victory for our nation – and a tribute to the millions of men and women in our armed forces and elsewhere who have fought so hard for our nation. New Yorkers have waited nearly ten years for this news. It is my hope that it will bring some closure and comfort to all those who lost loved ones on September 11, 2001."
Full text of Obama's statement here.
The news brings the possibility of increased terrorist attacks around the world: "U.S. diplomatic facilities around the world were placed on high alert following the announcement of bin Laden's death, a senior U.S. official said, and the U.S. State Department should be sending out a new 'worldwide caution' for Americans shortly. Some fear al Qaeda supporters may try to retaliate against U.S. citizens or U.S. institutions."
George W. Bush has released a statement:
"Earlier this evening, President Obama called to inform me that American forces killed Osama bin Laden, the leader of the al Qaeda network that attacked America on September 11, 2001. I congratulated him and the men and women of our military and intelligence communities who devoted their lives to this mission. They have our everlasting gratitude. This momentous achievement marks a victory for America, for people who seek peace around the world, and for all those who lost loved ones on September 11, 2001. The fight against terror goes on, but tonight America has sent an unmistakable message: No matter how long it takes, justice will be done."
A statement from Bill Clinton:
"This is a profoundly important moment not just for the families of those who lost their lives on 9/11 and in al-Qaida's other attacks but for people all over the world who want to build a common future of peace, freedom, and cooperation for our children. I congratulate the President, the National Security team and the members of our armed forces on bringing Osama bin Laden to justice after more than a decade of murderous al-Qaida attacks."
Video of President Obama's full televised address, AFTER THE JUMP.