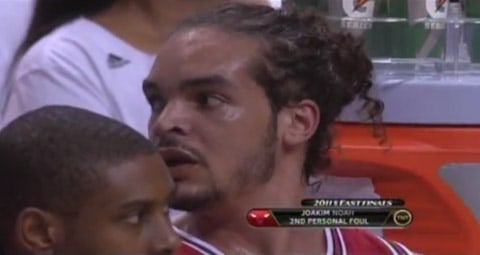 Chicago Bulls center Joakim Noah has been fined $50,000 after being caught on camera uttering the words "f**k you faggot" to a fan seated behind him at Sunday night's Miami Heat game.
The only difference between Noah's actions and Kobe Bryant's last month is that Kobe's slur was directed toward a referee and not a fan.
ESPN reports: "NBA spokesperson Tim Frank said that the two situations were different. 'Kobe's fine included discipline for verbal abuse of a game offical,' he said."
ESPN's 1st & 10 debated the potential fine earlier today.
Watch, AFTER THE JUMP…