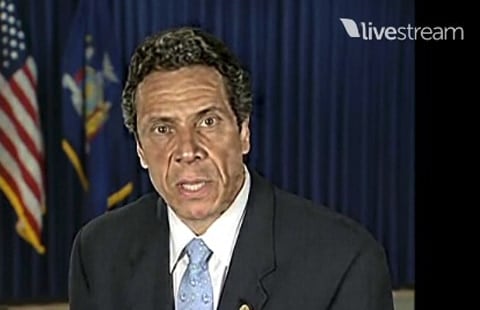 Governor Andrew Cuomo today released a 90-second video message saying "New York has fallen behind" on marriage equality and urging people to call their legislators in support of its passage.
Says Cuomo in the clip: "This is a matter of fairness and equality. It is not a question of religion or culture, but a question of legal rights and government policy….When it comes to fighting for what's right, New Yorkers wrote the book, and marriage equality is the next chapter of our civil rights story."
Watch Cuomo's video, AFTER THE JUMP…
New York's legislative session ends in less than a month. A marriage bill has yet to be introduced in the Senate, though much lobbying has been done by a coalition of advocacy groups called New Yorkers United for Marriage, as well as NYC Mayor Michael Bloomberg. Cuomo has been traveling throughout the state trying to engage support for passage of a marriage equality bill.
Recently in New York Marriage…
NYC Mayor Michael Bloomberg Lobbies senate GOP on Same-Sex Marriage [tr]
New York's Independence Party Leader Backs Marriage Equality [tr]
WATCH: Pastor at NOM's NY Marriage March Says Gays Should Die [tr]
Republicans Donate Major Funds to NY Marriage Equality Campaign [tr]
Gillibrand Gets oh the Phone to Senators [tr]
New York Marriage Coalition Releases Mailer to 200,000 Households [tr]
New York Conservative Party Threatens Pro-Equality Lawmakers [tr]