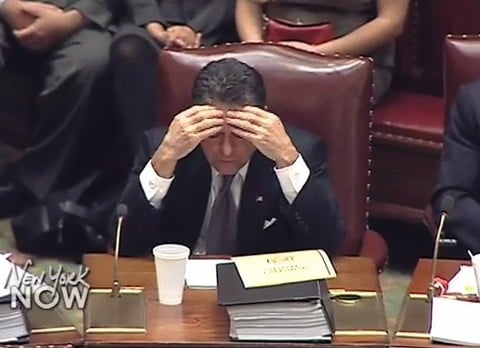 An appearance by James Alesi at a Rochester fundraiser for the Empire State Pride Agenda has folks talking. Alesi is a Republican senator who voted "no" the last time a marriage equality bill was presented in the New York legislature.
The Empire State Pride Agenda dinner in Rochester was called to rally support for the gay-marriage bill, which has already cleared the Democrat-controlled Assembly and will likely be voted on next month in the Republican-controlled Senate, where it was defeated in 2009.
"Having Alesi there was seen as an important development since the dinner was all about marriage equality," a prominent Democrat and gay-rights activist told The Post, noting that the Rochester Republican has long opposed gay marriage.
"While he didn't speak, Alesi was mentioned a couple of times from the stage, and with about 700 people there, there was a good deal of buzz about it."
A second source called Alesi's presence "a big development" in the gay-marriage fight.
Alesi was one of 38 Senators who killed the bill when it came up in 2009. Alesi's vote is important since lawmakers vote alphabetically and it would send a signal down the line (as it did, negatively, in 2009) indicating where the vote is going.
Alesi did not give any indication how he would be voting this time around.
Watch Alesi's vote in 2009 (described as "agonized"), AFTER THE JUMP…