Last week there was a flurry of LGBT immigration news as Attorney General Holder vacated a ruling which postponed the deportation of an Irish man, Wilson Dorman, over questions surrounding the administration's rejection of Section 3 of DOMA as unconstitutional.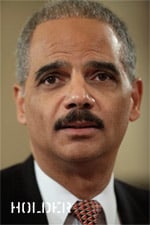 Holder's office on Saturday clarified his positions:
Tracy Schmaler, a spokeswoman for Mr. Holder, said he had interceded in Mr. Dorman's case only because he wanted the immigration appeals court to decide issues he felt had been overlooked. "As we have made clear, we will continue to enforce DOMA," Ms. Schmaler said.
In February, Mr. Holder announced that the administration viewed the marriage act as unconstitutional and would not defend it in the courts, although the administration would continue to enforce the law.
Gay rights advocates have asked the administration to postpone all deportations for same-sex married couples until the courts decide whether the marriage act is constitutional.
On Friday, a judge cited Holder's decision in the Dorman case as part of a ruling postponing the deportation of Henry Velandia.
In related news, Rep. Mike Honda (D-Calif.) last week introduced the Reuniting Families Act "which has a provision that would protect bi-national same-sex couples as one of its six prongs to keep families together in the country," according to the Washington Blade:
During a conference call Thursday, Honda touted his legislation as a means to make U.S. immigration policy more fair for gay Americans and their foreign partners.
"RFA also ends discrimination in our immigration system by allowing same-sex permanent partners to sponsor their foreign national partners for immigration benefits," Honda said.
The provision allowing gay Americans to sponsor their foreign partners for residency in the United States is identical to other legislation known as the Uniting American Families Act, which is sponsored by Rep. Jerrold Nadler (D-N.Y.) in the House and Sen. Patrick Leahy (D-Vt.) in the Senate.