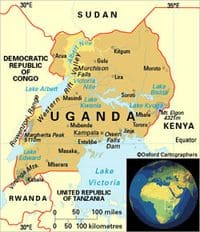 On Friday I noted that Uganda's anti-homosexuality bill was getting a hearing and would likely be headed for a vote this week. The bill has been fast-tracked as a way to distract from domestic strife.
Activist group AllOut is circulating a petition calling on President Yoweri Museveni to veto the bill.
Says its petition: "The world is united with human rights activists in Uganda, in asking that you publicly declare your intention to veto the "Anti-Homosexuality" bill. Don't let this law, and the worsening human rights situation in the country, make Uganda in to a pariah nation in the international community."
You can sign it here.