The Empire State Pride Agenda is holding its annual Equality & Justice Day today in the state's capitol, where "New Yorkers from all walks of life will advocate for allowing loving, same-sex couples to marry, combating transgender discrimination and urge the government to do all that it can to address LGBT heath disparities."
Today's Equality & Justice Day will include a 'Morning Welcome' at Empire State Plaza Convention Center featuring remarks from Lieutenant Governor Bob Duffy, Senator Thomas Duane,  Assemblymember Daniel O'Donnell,  Assemblymember Matt Titone, and Ross D. Levi, Executive Director, Empire State Pride Agenda.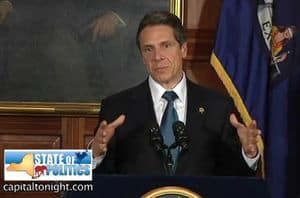 Missing from the agenda is Governor Andrew Cuomo, Politics on the Hudson notes:
Cuomo's office has not provided an explanation on why he won't be there, but he has made it clear he wants same-sex marriage passed this session—and it's one of the issues he plans to tout as part of his statewide tour this week.
Cuomo has had an uneven relationship with the gay community, and some have privately continued to question how much Cuomo this year will push Senate Republicans to pass it—the only obstacle for it to become law. The bill has passed the Democratic-led Assembly twice.
Last week, Cuomo said he was "optimistic" marriage equality would pass this session, telling reporters: "I think the best way I can get legislation to pass is by going to communities across the state and making my case to the people."
ESPA will also reveal a 20th Anniversary video featuring their group at today's gathering.
At 1 pm there will be a massive rally in West capitol Park with Miss New York, Claire Buffie,  Rev. Stacey Latimer,  Assemblywoman Teresa Sayward, and  Dru Levasseur, Lambda Legal Transgender Rights Attorney.
At 2 pm participants will lobby Assemblymembers and Senators, and at 4 pm, the program closes with an Interfaith Service