This Friday at 11 am, a number of LGBT groups are holding a rally outside the Newark Immigration Court in support of Henry Velandia and Josh Vandiver, a married binational couple who faces separation due to immigration policies under DOMA. Velandia is scheduled to be deported on May 6.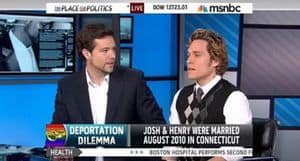 More from their press release:
On Friday, LGBT organizations from across the country will rally behind a gay bi-national couple who will endure deportation hearings, facing the stark reality of living under the Defense of Marriage Act. In the shadow of the Statue of Liberty, GetEQUAL working with a host of other LGBT organizations — including Stop the Deportations, All Out, Courage Campaign, Garden State Equality, Immigration Equality Action Fund, Marriage Equality USA, Out4Immigration, Princeton Equality Project, and Queer Rising – to make clear that these deportations of LGBT spouses must stop immediately.
The rally outside the Newark Federal Courthouse is taking place as Josh Vandiver of Colorado and Henry Velandia of Venezuela face deportation hearings before the court. Despite legally marrying in Connecticut in August 2010, Vandiver (a Ph.D. student at Princeton University) and Velandia (a salsa dancer, instructor, and founder of a Princeton-based dance studio) are facing a nightmare scenario — being ripped apart from one another at the hands of the U.S. government.
More information on the deportation issues these couples are facing can be found at Stop the Deportations.
GetEQUAL has produced a video to accompany their efforts. The rally also has a Facebook page here.
Watch, AFTER THE JUMP…