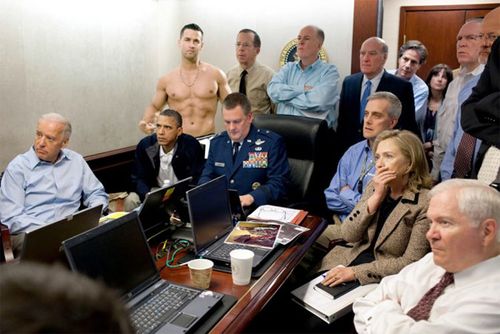 Photoshopping this now classic photo of the national security team monitoring the Bin Laden operation has now become a meme. I'm not sure whether this Jersey Shore iteration amuses me the most, or the one AFTER THE JUMP…
Incidentally, milliner Philip Treacy has spoken out about the creation he made for Princess Beatrice to wear to the royal wedding:
"My inspiration was beauty and elegance. It's a 21st century royal wedding. No, they didn't tell me [what they wanted] because I've known them for a long time and I wanted them to look gorgeous and beautiful. Gorgeous and beautiful can be open to interpretation. I thought they looked gorgeous and beautiful. But no one is crying if anyone didn't."
"How a hat makes you feel is what a hat is all about. The head is the most important part of the body to embellish, because it's what you meet."