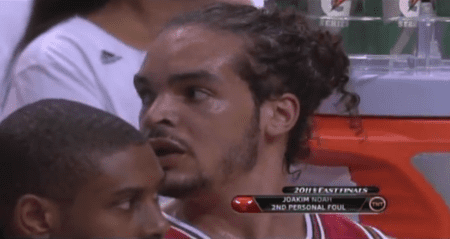 Chicago Bulls center Joakim Noah was caught on camera shouting "f**k you, faggot" to a fan seated behind him at a Miami Heat basketball game tonight. He used the slur while sitting on the bench after arguing a call with a referee.
CBS Sports reports on the episode and the comparisons from some members of the media to last month's incident with Kobe Bryant.
Noah then appeared to yell a string of profanities and finished with what appears to be the exact phrase that Bryant was fined for using. The only difference: Noah was not addressing one of the officials.
Immediately, NBA analysts and media members took to Twitter to predict that Noah would be fined by the NBA league office. "Because the NBA fined Kobe, you think they'll have to fine Noah," CNBC's Darren Rovell tweeted. "But it's really the luck of the draw whether you're caught on TV." "No question he said exactly what Kobe said," SI.com's Zach Lowe added. "Get that $100k ready, Joakim."
Watch the moment yourself, AFTER THE JUMP.