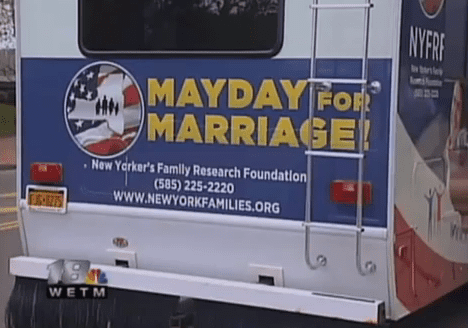 In response to New York Governor Andrew Cuomo's support for marriage equality, The New Yorker's Family Research Foundation has decided to start a campaign of hate by taking a page out of NOM's strategy book. On Friday, the group, led by Reverend Jason McGuire, embarked on a 2 1/2 week-long so-called "Mayday for Marriage" bus tour.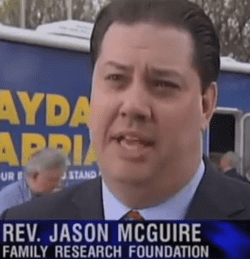 WHAM reports:
"The plan really is to take this RV on a tour around the state," Jason McGuire of New Yorker's Family Research Foundation said as he showed off his organization's latest grassroots campaign tool.  McGuire doesn't expect to outspend the marriage equality advocates but he believes his campaign's message speaks to a "silent majority" of New Yorkers who are not always represented in polls on the issue. "I think we're living in a day in which people have been so bullied on this issue that they're afraid to really speak out and to say that marriage really is about a mom and a dad and kids," McGuire said.
The campaign's first stop yesterday took place in Elmira, a city whose mayor, John Tonello, is pro-marriage equality. He told a local news station: "I recognize there are other issues regarding sanctifying a marriage but that's different.  Under the law of the United States of America, in states like New York, you have special rights granted to you.  I'm hopeful it passes the state legislators this year and gay marriage is approved."
NOM defector Louis Marinelli, who came up with the idea for that group's bus tour, responds: "A bus tour called the Mayday for Marriage taking place in the month of May with a doomsday-like reference to 2012, the year the Mayans supposedly predicted the world to end. So the question lingers, does the New Yorker's Family Research Foundation believe that the world is ending in 2012 as a result of same-sex marriage? I wouldn't put it past them."
The state-wide bus tour will end with a stop at the capital in Albany on May 24.
Watch a WETM report, AFTER THE JUMP.