The Conservative Party of New York State has passed a resolution that any state senators supporting supporting marriage equality will lose their support, the NY Daily News reports: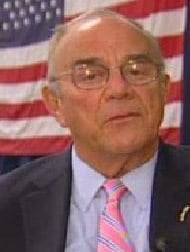 The party's executive committee today passed a resolution that defines marriage as between a man and a woman.
 
But the key passage of the resolution is this: "Be it resolved that any elected official or potential candidate who does not support marriage as defined between one man and one woman, shall not have their name appear on Row C, the New York State Conservative Party position on election ballots, in any election."
The resolution was passed by the entire committee:
State Conservative Party Chairman Michael Long (pictured)  said the executive committee wanted lawmakers to know, despite the arguments to the contrary by some, that it is serious on the issue: "The party has made it very clear that traditional marriage is a line in the sand and a very important issue," Long said.
The National Organization for Marriage, which is co-sponsoring this weekend's hate march with Senator Ruben Diaz Sr. in the Bronx, announced a million-dollar fund earlier this week to oppose any lawmaker who dares to support equality.