The White House today released a Statement of Administration Policy on HR 1540, the National Defense Authorization Act for fiscal year 2012, and denounced GOP amendments intended to impede repeal of "Don't Ask, Don't Tell". Obama also reiterated support for repeal of DOMA.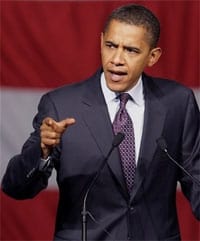 The key portions of the memo.
While there are many areas of agreement with the Committee, the Administration has serious concerns with several provisions that: (1) constrain the ability of the Armed Forces to carry out their missions; (2) impede the Secretary of Defense's ability to make and implement management decisions that eliminate unnecessary overhead or programs to ensure scarce resources are directed to the highest priorities for the warfighter; or (3) depart from the decisions reflected in the President's Fiscal Year 2012 Budget Request. The Administration looks forward to working with the Congress to address these and other concerns, a number of which are outlined in more detail below.
***
Attempts to Prevent, Delay, or Undermine the Repeal of "Don't Ask, Don't Tell": On December 22, 2010, President Obama signed into law the Don't Ask, Don't Tell Repeal Act of 2010, in order to strengthen our national security, enhance military readiness, and uphold the fundamental American principles of fairness and equality that warfighters defend around the world. As required by that statute, DoD is diligently working to prepare the necessary policies and regulations and conducting educational briefings to implement the repeal. Should it be determined, as required by the statute, that the implementation is consistent with the standards of military readiness and effectiveness, unit cohesion, and military recruiting and retention, then the President, the Secretary of Defense and the Chairman of the Joint Chiefs of Staff will send forward the required certification. The Administration strongly objects to any legislative attempts (such as section 533) to directly or indirectly undermine, prevent, or delay the implementation of the repeal, as such efforts create uncertainty for servicemembers and their families.
Military Regulations Regarding Marriage: The Administration strongly objects to sections 534 and 535, believes that section 3 of the so-called Defense of Marriage Act (DOMA) is discriminatory, and supports DOMA's repeal.
The 'DADT' amendments referred to were adopted earlier this month by the House GOP.
Chris Geidner at MetroWeekly explains the marriage amendments:
The first of the two marriage amendments, proposed by Rep. Vicky Hartzler (R-Mo.), "reaffirms the policy of section 3 of the Defense of Marriage Act." The amendment – made applicable to the NDAA by referencing Department of Defense rules and regulations, as well as DOD employees – also repeats section 3's policy of defining "marriage" and "spouse" as relating only to opposite-sex marriages.
The second, offered by Rep. Todd Akin (R-Mo.), expands upon the current restrictions of DOMA by effectively banning same-sex marriages from being performed at military bases or by military employees.
The White House does not indicate that any of the above provisions would lead to a presidential veto.