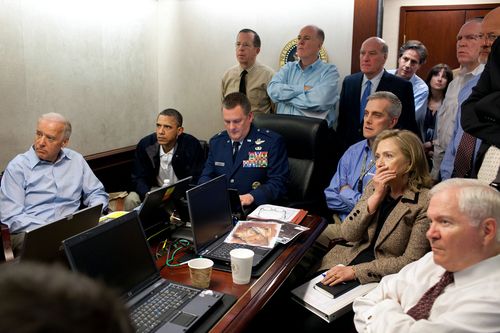 The White House today released this photo of a rapt national security team monitoring the raid on Osama bin Laden's Pakistan compound.
Today's White House press briefing, which featured John Brennan, Assistant to the President for Homeland Security and Counter-Terrorism, taking questions about the weekend raid, AFTER THE JUMP…
Also, Politico has an especially detailed blow-by-blow account of what went down. And Raw Story has a list of five of the most bizarre GOP reactions to the news of Bin Laden's death including Republican Congressman Joe Scarborough's assertion that Obama's base didn't want this, Steve King's (IA) assertion that this vindicates waterboarding, and Donald Rumsfeld's assertion that Bush deserves the credit.
(White House photo by Pete Souza)