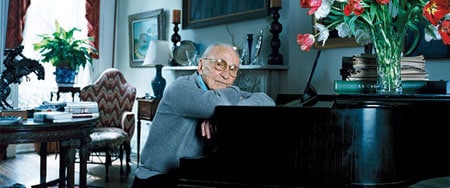 Arthur Laurents has died at 93. Two graphs from the lengthy NYT obit:
Arthur Laurents, the playwright, screenwriter and director who wrote and ultimately transformed two of Broadway's landmark shows, "Gypsy" and "West Side Story," and created one of Hollywood's most well-known romances, "The Way We Were," died on Thursday at his home in Manhattan. He was 93. The cause was complications of pneumonia, said Scott Rudin, a producer of the most recent Broadway revival of "Gypsy."
***
He had also long since cast off whatever remaining doubts he had about his homosexuality and soon lost count of the sexual experiences he had while in the Army. In "Original Story By," a memoir published in 2000, he was frank about his gay encounters, referring to his partners as "those unremembered hundreds." Tom Hatcher, a former actor and real estate developer, would be his companion for 52 years.
The image up top is from a fairly recent New York magazine article on his return to the stage at 91 with his revival of West Side Story.
Two years ago, Mo Rocca delivered a thorough interview of 91-year-old Arthur Laurents in the context of his revival of West Side Story on Broadway. In addition to plenty of rehearsal  and show footage, they also sat down to discuss his reputation for being mean, Barbra Streisand, and his late longtime partner Tom Hatcher.
Watch it, AFTER THE JUMP…