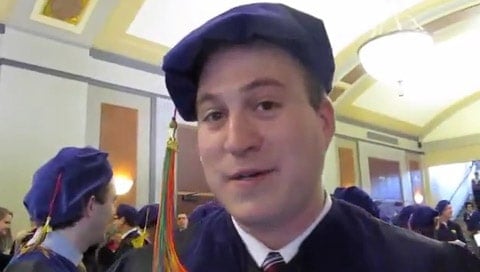 More than 100 University of Michigan law school graduates walked out on a commencement address by Ohio Senator Rob Portman over the lawmaker's anti-gay views on Saturday, Pride Source reports:
Outside the Hill Auditorium guests attending Senior Day were handed a pamphlet explaining the coming protest. About 60 percent of the graduates wore rainbow buttons or flair on their gowns. Family and friends of the graduates wore the rainbow ribbon to show solidarity with grads who would be affected by Portman's votes.
The pamphlet contained a letter from more than 200 Michigan Law alumni to Dean Caminker.
"Senator Portman, in public life, has actively worked to deny some members of the graduating class their civil rights … Our objection is not a political one … rather we are concerned about the message Michigan Law is sending by giving an anti-gay rights speaker the honor of marking what should be a joyful occasion," the letter read.
Watch interviews outside the auditiorium with protesting students, AFTER THE JUMP…
(via Think Progress)