Principal Karlton O. Johnson of Blanche Ely High School in Pompano Beach, Florida is under fire for outing two lesbian students to their parents after he discovered them holding hands. One of the students was already out to her parents but the other was not.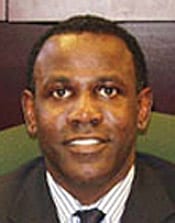 The South Florida Times reports:
The students said they were holding hands while walking to class on May 3, when Johnson confronted them and took them to his office.
"We were walking to class when he rolled up on his golf cart and said, 'Didn't I tell you two to stop doing  that?' and then he took us to his office," one of the girls told South Florida Times. "He gave us a speech and then separated us before calling our parents, which was wrong. My mother already knew but my friend's mom didn't know she is into girls."
One of the teens said Johnson had warned them about holding hands on previous occasions but they continued anyway because straight couples were allowed to do so without incident.
Broward County Commissioner Kristen Jacobs and ACLU Attorney Barry Butin are concerned about the incident.
Said Butin: "Freedom of expression is just one of the things that it may violate. If the students are suspended or disciplined in any way, we would take action if asked. They are minors and their parents would have to decide."
Community activist Michael Rajner is calling for an investigation: "His actions were reckless and potentially dangerous, without any understanding of the potential harm he may have caused by outing these students. Many gay youth become suicidal after being outed and the school district must intervene and link these families to counseling services."
Principal 'Outs' Gay Student [south florida times]