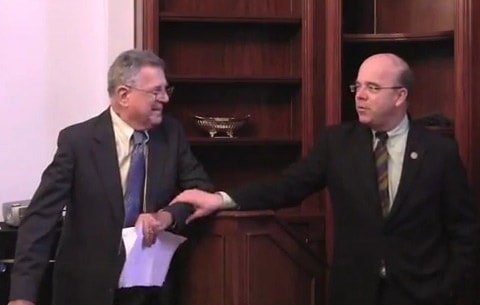 Rep. Pete Stark (D-CA, above left) yesterday introduced the Every Child Deserves a Family Act, which would restrict federal funds for states that allow discrimination in adoption or foster care placement based on the sexual orientation, marital status or gender identity of potential parents. Rep. Jim McGovern (D-MA) joined him at the bill's introduction. 
The White House has not offered an explicit endorsement of the bill, according to the Washington Blade:
Shin Inouye, a White House spokesperson, said in a statement that Obama believes that adoption rights should be afforded to all Americans and supports the goals of the legislation, but stopped short of offering an explicit endorsement of Stark's bill. The lack of outright support is unlike the president's position on other pro-LGBT initiatives, such as the Employment Non-Discrimination Act or "Don't Ask, Don't Tell" repeal. 
"The president has long believed that we must ensure adoption rights for all couples and individuals, regardless of their sexual orientation," Inouye said. "He recognizes that adoptive families come in many forms, and that we must do all we can to break down barriers to ensure that all qualified caregivers have the ability to serve as adoptive families. While we have not reviewed this specific legislation, we share its goals to expand adoption rights and move the dialogue forward on this issue."
The bill has 33 co-sponsors. Senator Kirsten Gillibrand is expected to introduce the Senate version  in June.
Watch a clip of Stark introducing and explaining the bill (and making an uncomfortable Osama bin LAden joke), AFTER THE JUMP…