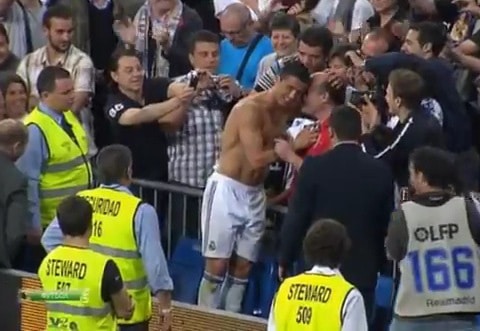 Footballer Cristiano Ronaldo offered an injured fan a shirt after his match on Tuesday, Yahoo reports:
"In the 16th minute, with the score still 0-0, Ronaldo cleared a ball into the stands that smacked a guy in the first row right in the face. The guy got a bloody nose and probably wasn't the most comfortable man in the stadium for the rest of the match. But after the final whistle blew, Ronaldo sought him out. Following a bit of confusion over who he was supposed to talk to, he gave the guy a shirt and a picture and apologized for making his nose explode."
Ronaldo took the shirt off his back to give the fan, but security swapped it out for a fresh one at the last second, unfortunately.
Watch it all go down, AFTER THE JUMP…