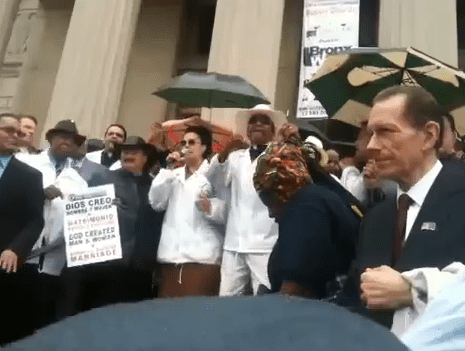 Earlier today, NOM and New York Senator Ruben Diaz Sr. held their hateful anti-marriage equality rally in the Bronx today.
According to the Village Voice, only 1,000 people attended today's hateful protest, a number that was way down from the 20,000 anti-gay demonstrators who showed up in NYC in 2009.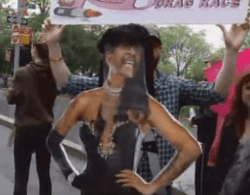 As the activist group Queer Rising promised, Diaz (or rather a cardboard cut-out dressed in drag) was part of the New York AIDS Walk in Manhattan taking place at the same time.
Good As You points out that the bigoted group the American Society for the Defense of Tradition, Family, and Property played a major part in the anti-gay rally: "The group actually headed the processional march to the rally. Then, at said rally, where they stood on the stairs front and center, the group led the crowd in rousing renditions of tunes like 'God Bless America.'"
Diaz's lesbian grand-daughter, Erica Diaz, spoke up for marriage equality just before her father particpated in his hate march.
A bunch of videos from the NOM/Diaz rally AFTER THE JUMP. A NY1 news report is here.