UPDATED
The San Francisco Giants will be the first professional sports team to make an "It Gets Better" video following an online petition initiated by gay activist Sean Chapin which gathered more than 6,000 signatures, the SF Chronicle reports: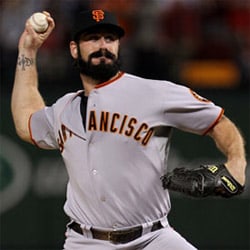 Giants' spokeswoman Staci Slaughter said today that the team already had been thinking of joining the campaign before Chapin started his petition drive, but his efforts speeded things up. She said the exact content of the video, and which if any players or members of the coaching staff will participate, has not been determined.
Originally, the plan was to produce the video for the Giants LGBT Night home game in August, Slaughter said, "but now we're trying to get it done sooner than later."
The Giants have a strong gay and lesbian fan base and as an organization has a history of promoting tolerance, she said. In 1994, the Giants became the first team in the majors to dedicate a game every year to AIDS awareness.
UPDATE: Chapin's video proposal to the Giants, AFTER THE JUMP…