Noxolo Nogwaza, a 24-year-old lesbian and a member of the Ekurhuleni Pride Organising Committee (EPOC), the key LGBTI organisation in Kwa-Thema township in South Africa, was murdered on Easter Sunday after a brutal "corrective rape" by a group of men.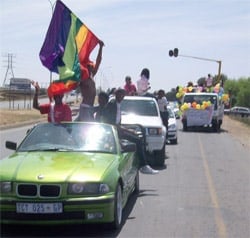 Pink News reports:
The committee, along with the Coalition of African Lesbians (CAL) said that Ms Nogwaza's face was so badly beaten that she was unrecognisable. Her body had been stabbed all over with glass shards and there was evidence she had been raped.
Victor Mukasa, project coordinator of the Human Rights Defenders Project at CALI, said: "I am so disturbed by this horrific action. It is the responsibility of the South African Government to protect all its citizens. Hate crimes against LGBT people in this country are on the rise and the government should come out openly against these actions.
The BBC adds:
South African police ministry spokesman Zweli Mnisi says that the police prioritise violence against women and children but do not look at sexual orientation when carrying out their investigations.
"To us, murder is murder, whether somebody is Zulu, English, male or female – we don't see colour, we don't see gender," he told the BBC's Focus on Africa programme.
Prayers were held for Ms Nogwaza outside her home on Saturday and some activists report hearing threatening comments from young men in the crowd.
They fear some of the killers may have mingled with the mourners.
More than 2,000 people attended Nogwaza's funeral last weekend. A group sang that they would use razor blades to cut off the genitals of the suspects if the police did not arrest them, the New Age newspaper reported. Some carried posters that read: "Love me or hate me I will continue to be a lesbian," and "Raping me won't change me."
"Corrective rape" is reaching epidemic proportions in South Africa: "Campaigners say that 31 lesbians have been murdered because of their sexuality in the past decade and more than 10 lesbians a week are raped or gang raped in Cape Town alone."
EPOC released a statement calling for thorough and immediate investigations.
Ekurhuleni Pride photo above via African Activist.