The U.S. State Department's spokesman Mark Toner told reporters today that the agency was monitoring Uganda, where an Anti-Homosexuality bill is scheduled for a possible vote tomorrow, CNN reports: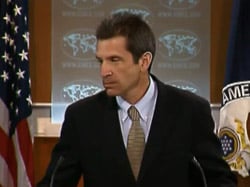 "No amendments, no changes, would justify the passage of this odious bill," State Department spokesman Mark Toner told reporters. "Both (President Barack Obama) and (Secretary of State Hillary Clinton) publicly said it is inconsistent with universal human rights standards and obligations."
The State Department, he said, is joining Uganda's own human rights commissions in calling for the bill's rejection.
"We are following this legislative process very closely," Toner said. "Our embassy is closely monitoring the parliament's proceedings and we also are in close contact with Uganda's civil rights and civil society leaders, as well as members of the (lesbian, gay, bisexual and transgender) community there."
Human Rights Watch reports in a press release that Ugandan parliament's Legal and Parliamentary Affairs Committee "has regrettably recommended passage of the proposed Anti-Homosexuality Bill, including retaining the death penalty for 'aggravated homosexuality.'"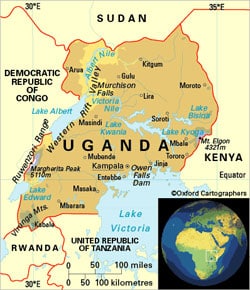 They add: 
Some recommendations integrate concerns raised by Ugandan and international human rights groups. The committee states that provisions criminalizing "attempted" homosexuality should be removed, rightly stating such allegations would be very difficult to prove, Human Rights Watch said. The committee also recognizes that provisions requiring anyone who knows of homosexual conduct to report to police within 24 hours would create "problems especially to professionals whose ethics include confidentiality in order to be able to carry out their functions like Doctors, Lawyers and Counselors."
The committee also suggests removing the clauses on extra-territorial prosecution of homosexuality and on nullifying Uganda's international human rights obligations to the extent that they contradict the Anti-Homosexuality Bill.
The committee recommends the creation of an additional crime, "conduct[ing] a marriage ceremony between persons of the same sex," punishable by three years in prison, which was not in the original draft. It also suggests deleting the crimes of "aiding and abetting homosexuality," and "conspiracy to commit homosexuality," but including a penalty of seven years in prison for "procuring homosexuality by threats." The committee did not comment on the current proposed provision criminalizing the "promotion of homosexuality," which would jeopardize the legitimate work of national and international activists and organizations working to defend and promote human rights in Uganda.
Earlier…
Ugandan 'Kill the Gays' Bill Vote Still on the Schedule [tr]
Barney Frank: Cut Off Aid to Uganda if 'Kill the Gays' Bill Passes [tr]
Update: Uganda's 'Kill the Gays' Bill Still Pending, Protest Planned [tr]
Uganda 'Kill the Gays' Bill Could Pass Within 72 Hours [tr]