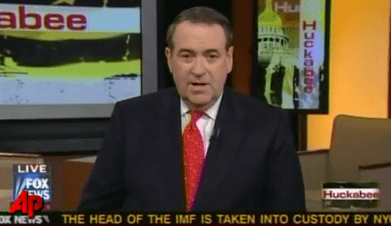 He made the announcement on his FOX News show last night.
"When people asked me what it would take for me to run, I would tell them the same thing—pray for me to have clarity in the decision. I don't expect everyone to understand this, but I'm a believer and a follower of Jesus Christ. That relationship is far more important to me than any political office. For me, the discussion and decision is ultimately not a political one, a financial one, it's not even a practical one – it's a spiritual one….Only when I was alone, in quiet and reflective moments did I have not only clarity, but an inexplicable inner peace—a peace that exceeds human understanding. All the factors say 'go,' but my heart says 'no.'"
Huckabee was on Fox News Sunday this morning and told host Chris Wallace: "Up until just a few days ago…I honestly thought I would be in it."
Watch him explain his decision further, AFTER THE JUMP.