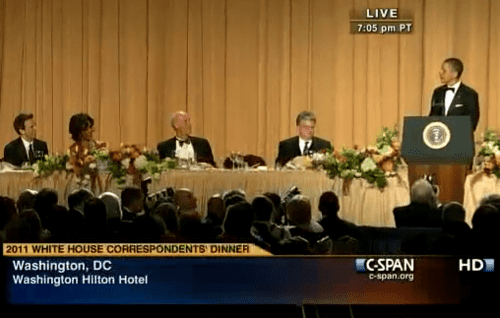 The White House Correspondents dinner is one of my favorite political events and this year's affair wasn't a letdown. Seth Meyers, who spent 20 minutes skewering the likes of the president, The Tea Party, Juan Williams and an unamused Donald Trump, was so more impressive than most of his "Weekend Update" segments on Saturday Night Live. President Obama also managed to deliver some gems.
Watch both of their hilarious speeches, AFTER THE JUMP…
Some of the best jokes of the day:
Seth Meyers: "Donald Trump has been saying that he will run for president as a Republican, which is surprising since I just assumed he was running as a joke." Trump was not amused.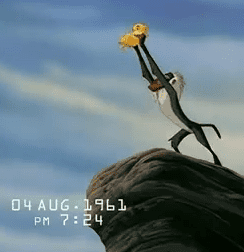 President Obama: "Donald Trump is here tonight … Now, I know that he's taken some flak lately but no one is prouder to put this birth certificate matter to rest than the Donald. And that's because he can finally get back to focusing on the issues that matter, like, 'Did we fake the moon landing?' 'What really happened on Roswell?' And 'Where are Biggie and Tupac?'"
President Obama: "Matt Damon said he was disappointed in my performance. Well, Matt, I just saw The Adjustment Bureau so … right back at ya, buddy!"
President Obama about Michele Bachmann's run for the presidency: "I hear she was born in Canada. Yes, Michele, this is how it starts."
Seth Meyers: "John Hamm looks the way every Republican thinks they look. Zach Galifianakis looks the way Republicans thinks every Democrat looks."
One of the funniest moments came when Obama played what he joked was his "birth video" filmed on August 4, 1961. The footage that followed was a clip from the movie The Lion King which featured the birth of Simba alongside his Kenyan Lion King father. Obama added afterward: "I want to make clear to the Fox News table, that was a joke. That was not my real birth video."
ABC News asked attendee Jane Lynch if she's bothered by the fact that Obama opposes gay marriage: "Lynch said she thinks that President Obama, like all politicians, says what he needs to say, but she thinks that deep down the President does not mind that she's married to a woman."
Politco has a slideshow of red carpet arrivals, including those of attendees Chris Colfer, Jesse Tyler Ferguson and Barney Frank.
To watch video of Trump getting booed on the red carpet, click here.
Watch both Meyers and President Obama deliver their hilarious speeches, AFTER THE JUMP…