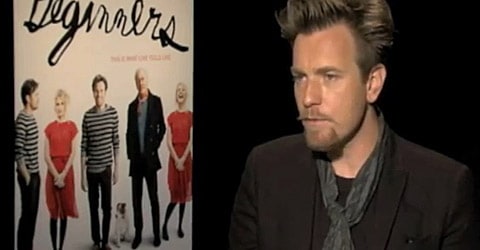 Josh Helmin is also one half of the blog Josh & Josh Are Rich and Famous.
I recently had a chance to sit down and talk with Ewan McGregor (and co-star Christopher Plummer, as well as writer/director Mike Mills) about the superb, charming new film Beginners. (The film is getting 87% positive reviews according to Rotten Tomatoes.) The film features McGregor as an illustrator dealing with the revelations that his father (Plummer) is both gay and has been diagnosed with terminal cancer. It's based on director Mills' own father.
Toward the end of our interview, I couldn't resist asking Ewan about some of his same-sex screen kisses (a question which didn't make the final cut in the video). Asked if he would repeat any of those screen kisses if he could (from Velvet Goldmine, The Pillow Book, and I Love You Phillip Morris), Ewan laughed good-naturedly and said, "Ah, well, that wouldn't very gentlemanly of me to say, would it? They were very nice people to kiss–all of them. It would be ungentlemanly to say more."
Can't blame a guy for asking.
Watch, AFTER THE JUMP…
BEGINNERS is open now in major cities and continues to roll out on more screens throughout June.