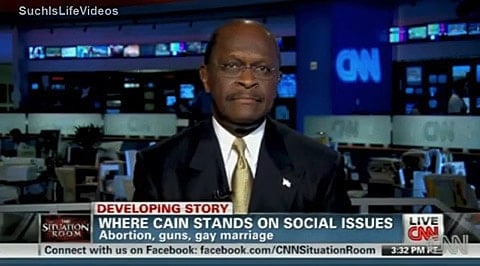 Last night, Wolf Blitzer repeatedly asked Herman Cain if he would support civil unions for gays.
"I support traditional marriage," Cain repeated, insistently. "Let's move on, Wolf."
Cain also said "I believe homosexuality is a sin because I'm a Bible-believing Christian. But I know that some people make that choice. That's their choice…I believe this is a choice."
Watch, AFTER THE JUMP…
Previously…
Herman Cain Would Appoint a Gay Cabinet Member, So Long as They're Not a Muslim [tr]
Cain, Palin See Big Gains in Presidential Polling in Iowa [tr]
His homosexuality is a sin remarks: