Chris Brown was caught on video unleashing on paparazzi yesterday while talking his way out of a parking ticket, TMZ reports: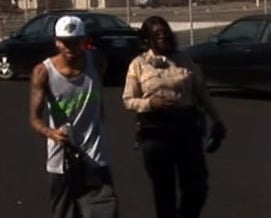 Before sweet-talking the cop, Brown accused several cameramen of alerting parking enforcement officers that his car was illegally parked, ranting, "Y'all n**gas is weak. Did you all call them to try and film me? Y'ALL N**GAS IS GAY."
TMZ also got a statement from HRC: 
"Invoking words meant to demean gay Americans is just plain unacceptable. Chris Brown should know better. He irresponsibly neglected to recognize the impact of his words and the unacceptable message that it sends to couple the word gay with negative actions."
UPDATE: Brown tweeted an 'apology' late on Wednesday: