My friend and fellow blogger, longtime activist David Mixner is having a one-man show in July at NYC's Dixon Place:
From his chair on a countryside 'Front Porch' set, David will captivate his guests with a fascinating personal and historical portrait of America throughout several of its most turbulent periods including the anti-war demonstrations of the 60's, the sexual revolution of the 70's, the dark days of the AIDS crisis in the 80's, and the showdown of 'Don't Ask, Don't Tell' in the 90's. The chapters of Front Porch will be interwoven with special music by Josh Zuckerman and Holly Holcomb to highlight the narrative content.
The show's a benefit for some worthy causes. Broadway World adds:
"The July 11th performance is a benefit for Dixon Place and the Ali Forney Center and has been the highest revenue-producing show at the intimate, critically acclaimed 25 year old downtown developmental theater. Through advance word-of-mouth ticket sales and donations, Mixner has also achieved a personal goal of raising enough income to pay for all of the HOT Festival artist's fees during the entire run of the popular, summer long Queer Festival of Performance, a first for Dixon Place. 'I'm really proud that I can help support these artists and their work, especially when there are fewer opportunities and venues to show new and challenging work – HOT provides them with a vital platform to, not only entertain, but to express their views in safe, non-judgmental and nurturing environment.'"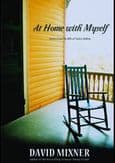 Being familiar with David's humor and breadth of background, I have no doubt this will be a fascinating and unique  night.
I am currently in the midst of reading an advance of his forthcoming memoir, At Home with Myself, which is a different take on his storytelling — and takes as its jumping-off point the natural world around his former home in Turkey Hollow, New York. 
Look for the book this fall. It's also available for pre-order on Amazon.