New York Governor Andrew Cuomo told reporters late yesterday that he expects Republicans to bring the marriage equality bill to the floor for a vote.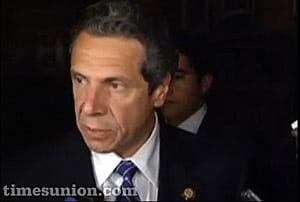 Politicker NY reports:
"I'm cautiously optimistic when it comes for a vote that it's going to pass," Cuomo told reporters tonight, outside his office on the second floor.
Echoing the message Mayor Michael Bloomberg brought to Albany last Monday, Cuomo said: "I believe the people are entitled to a vote and let the elected officials stand up and say yea or nay. I believe that's how democracy works and I believe the state is entitled to a vote, on this issue."
I asked if that's a change in his strategy.
"We early on said we're not going to advance a bill unless we're confident that it has a good chance of success," Cuomo said. "Not that you know it's going to succeed, because you never know until the vote is actually cast. But we've reached the point, the threshold where we believe there was a high likelihood of success, we felt good about the chances of success, so then we moved the bill."
Empire State Pride Agenda's Ross Levi said he believes the Senate will vote as well.
Watch Cuomo speak to reporters (the clip's a bit quiet, and addresses some other issues as well) and Levi's interview with Liz Benjamin, AFTER THE JUMP…
Levi: