Yesterday, gay activists protested the decision by officials in Hong Kong's Social Welfare Department to hire a psychiatrist who claims he can "cure" homosexuality.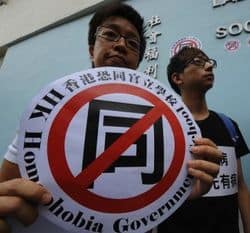 Hong Kwai-wah is chairman of the group New Creation Association, who, according to its website, "help people who have experienced distress owing to unwanted 'Same sex attractions', resolving their psychological self-contradiction of the mind, restoring their sexual wholeness and appreciating their gender identity given by God, thereby leading an abundant life."
New Creation Association, which has been around since 2002, charges many thousands of dollars for its bogus "services." One man paid over $100,000(HK) for sessions with the group before eventually deciding to quit.
The AFP reports that "the move (by the Hong Kong government) could be the world's first government-sponsored training session on gay conversion therapy."
"The government seems to think that homosexuals are possessed by evil spirits and needed to be 'cleansed' or 'cured' through conversion therapy," Joseph Cho, a spokesman for gay rights group Rainbow Action, told reporters during a protest outside the city's Social Welfare Department Friday. "They are criminalising people with same sex orientation — this is an international joke," he added. Psychiatrist Hong Kwai-wah, who specialises in "treating unwanted homosexuality," gave a two-and-a-half hour talk to staff at the former British colony's social welfare office on Friday.
Hong Kong officials defended their decision to hire Hong Kwai-wah because, according to them, "knowledge from multiple perspectives was essential for social workers to make professional and independent assessment on their cases and to address specific needs of service users."