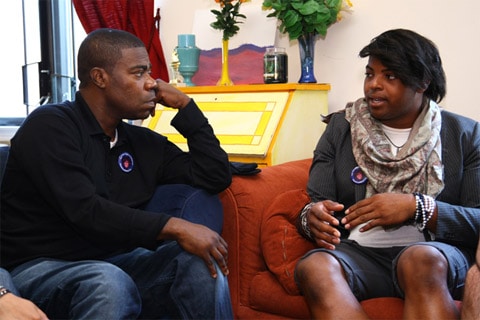 Actor and comic Tracy Morgan, who came under fire last week for a stand-up routine in which he said he would stab his own son if he found out he was gay, met with Jayden Love and Raciel Castillo, two young people from the Ali Forney Center, the nation's largest organization serving homeless LGBT youth.
Said the teens in a statement:
"We really appreciate that we were able to meet with Tracy Morgan, and that he was able to hear our stories of rejection at the hands of our own families and of being subsequently forced to survive on the streets.  Raciel's father insisted that his son's sexual orientation was a 'medical condition' that could be 'fixed' through therapy, and Jayden was expelled by her religious family for being who she is.  Our parents' inability to accept us changed our lives for the worse.  We hope that our stories have the power to change not only Tracy's perspective, but those of any parent who may be struggling with accepting their child. In the meeting, Tracy clearly took responsibility for his words, and we hope that he will use his platform to make the world a better place for LGBT people."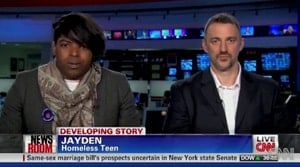 CNN spoke with Love and Carl Siciliano from the Ali Forney Center about the meeting.
Watch, AFTER THE JUMP…
Morgan is planning to return to Nashville, Tennessee where the comedy routine took place, to apologize directly to those who witnessed it.
Also at the meeting was Elke Kennedy, the mother of Sean Kennedy who was killed in an anti-gay hate crime in South Carolina in 2007.
Photo below: Jim Parker, Elke Kennedy, Tracy  Morgan and fiancée, Jayden Love, Raciel Castillo, Sharda Sekaran (GLAAD), Carl Siciliano (Ali Forney Center).
(photos Neilson Barnard/WireImage 2011)