A Gay Pride "stroll" organized by groups independent of Cuba's "pro-government LGBT groups controlled by Raúl Castro's daughter Mariela" took place in Havana yesterday: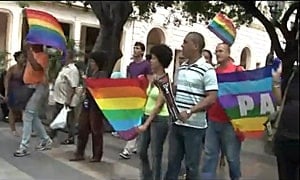 Waving rainbow colored flags, dozens of LGBT activists and supporters joined what was described as Cuba's first gay street demonstration not sponsored by the government in recent memory. The event drew a strong police presence but went off without incident.
Leannes Imbert, whose Lesbian, Gay, Bisexual and Transgender Rights Observatory organized the event, had said that she was inviting everyone, even Mariela Castro, to the stroll — not a protest or a march because those might have required police permits.
But the event was clearly designed to highlight differences with the "official" LGBT groups backed by the first daughter, who has argued that Gay Pride parades are "protests" not needed in Cuba because the country's laws protect gay rights.
Cubans have marched for gay rights before, but Mariela Castro was directly involved.
Cuban blogger Yoani Sanchez writes about yesterday's event here.
Video of the march, AFTER THE JUMP…