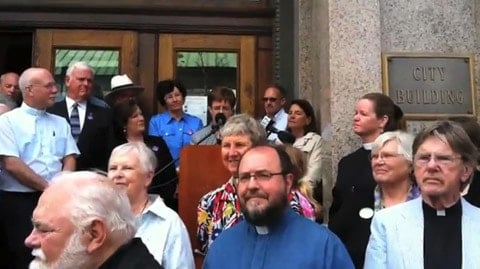 Yesterday, in Lewiston, Maine, LGBT advocates launched efforts to get an initiative on the ballot legalizing same-sex marriage, the Bangor Daily News reports:
On Thursday, Equality Maine Executive Director Betsy Smith said supporters of same-sex marriage have continued talking to the public about the issue, working to change the overall public sentiment.
"We've changed hearts and minds during 'No on One,' and since then, many more Mainers have changed their hearts and continue to change their minds," said Smith in a Thursday release. "We have been going door to door, talking to them and hearing their journey toward support. In two separate polls, conducted over the last five months, 53 percent of Mainers surveyed said they support letting gay and lesbian couples marry here."
The proposed referendum question will read: "Do you favor a law allowing marriage licenses for same-sex couples that protects religious freedom by ensuring no religion or clergy be required to perform such a marriage in violation of their religious beliefs?"
57,277 signatures must be collected to get the question on the November 2012 ballot.
Watch Smith tell it like it is, AFTER THE JUMP…