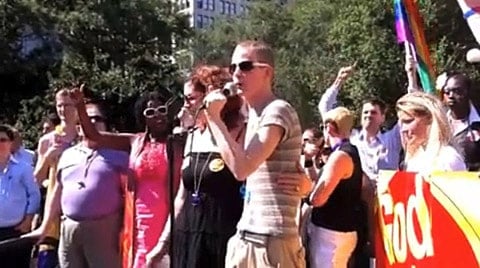 Yesterday, in New York City's Union Square, advocates and activists supporting marriage equality called on lawmakers to pass marriage equality this week at a rally sponsored by activist group Queer Rising called 'Last Day of Inequallity'.
A vote could come as soon as today. Over the weekend, Governor Andrew Cuomo expressed optimism that the bill would pass following a week of wrangling over religious exemptions in the bill.
Watch clips from the rally and march, AFTER THE JUMP…
It's still URGENT that we politely apply heat to New York Senators. If you have not called, call. If you have called, call again. Email them. Tweet Senator Ball at @ball4ny as he was soliciting your opinions about the bill.
The call list is HERE.
We'll be following marriage developments closely all day here!