The New York Post reports that weekend negotiations appear to have made some headway: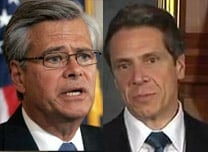 Gov. Cuomo and Senate Republican boss Dean Skelos could say, "I do" as soon as today on a historic gay-marriage bill that includes strengthened exemptions for religious groups.
Negotiators for the Republican-run Senate privately admitted that a deal is near after aides spent the Father's Day weekend ironing out language to appease "religious liberty" concerns that have been raised by several fence-sitting GOP senators.
And public pressure has reached a tipping point, as about 200 supporters of the bill held two raucous rallies near Union Square yesterday.
Senator Greg Ball was soliciting views from his followers on Twitter over the weekend.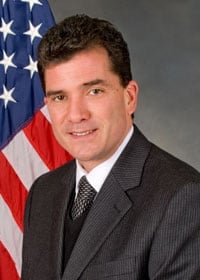 And the Senator from Buffalo, quiet:
Grisanti remained publicly uncommitted Sunday despite indications that he might be willing to cast the deciding vote in favor of gay marriage.
Lobbied by Gov. Andrew M. Cuomo, a staunch supporter of the bill, Grisanti has nevertheless made it clear that there are unresolved issues that might prevent him from voting for the legislation.
"I'm going to wait and see what changes have been made in the bill," he told The Buffalo News on Sunday.
Saland is mum as well:
His office has been getting a remarkable 60 to 70 calls an hour from people on both sides of the issue. It got to the point where his staff had to put on an answering machine in his Albany office because they simply couldn't keep up with all the calls.
But as the Poughkeepsie Republican is garnering extraordinary attention, he himself is keeping a low profile. He politely declines to comment on his deliberations, offers a smile and says, "Thank you."
On Friday, he briefly told Gannett's Albany Bureau that he remains undecided, and "I've been asked to participate in some of the negotiations."