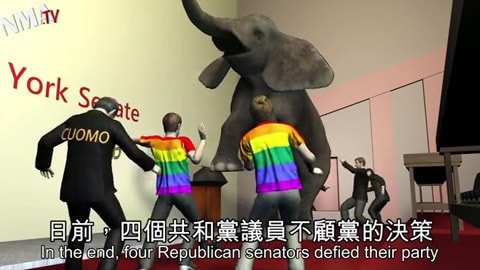 A few odds and ends on last week's historic vote in New York.
New York's marriage equality victory gets the Taiwanese animation treatment.
Watch, AFTER THE JUMP…
The NYT has an interesting follow-up piece on last Friday's marriage equality victory and some of the dealmaking that went on to get it done, as well as how it nearly fell apart.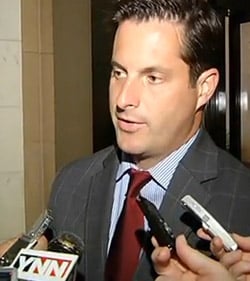 One interesting bit in the piece regards Senator Greg Ball, who voted "no" but used his status as an undecided to soak up media attention in the days and weeks before doing so. Ball tried to make a deal that he would vote "yes" if Dick Cheney would come campaign for him:
The advocates privately chortled. Mr. Cheney had recently had major heart surgery and the possibility that he would travel to New York to endorse a state senator seemed beyond slim.
Mr. Ball, of Putnam County, eventually voted no. But he said he did not regret his request.
"As far as Cheney," he explained by e-mail, "we suggested the need to have nationally prominent conservatives ready to support moderate Republicans willing to support either civil unions or marriage equality, in tough primaries.
"Hopefully, they listened, because some of these voting yes are going to have a tough re-election fights."
The Daily Beast calls Ken Mehlman an "unlikely hero" in NY's marriage equality victory:
On June 6, two weeks before the legislative session was officially set to end, Mehlman was back in the state capitol to drive his argument home. He met one-on-one with 13 lawmakers, including the four Republican state senators who eventually voted in favor of the bill. Mehlman took pains not to draw too much attention to his efforts. As his friend, Bill Smith, political director at the Gill Action Fund, a gay-rights organization that orchestrated the conservative lobbying in New York, puts it, "he has been careful not to leave many fingerprints, like people who are looking for credit." But the four Republican votes ended a deadlocked legislative session and made New York the sixth, largest, and most influential state to adopt same-sex marriage.
Assemblyman Daniel O'Donnell talks about the victory in a CNN interview.
Divorce lawyers are excited about the news.
Clips of Governor Andrew Cuomo, NYC City Council Speaker Christine Quinn, and Senator Tom Duane at the NYC Pride parade, and Next Media Animation's clip about the marriage equality victory, AFTER THE JUMP…