The sex talk begins at the 3:40 mark
McAvoy: How many times did you have sex with Michael Fassbender?
Interview: That was the question and what is the answer?
McAvoy: Four.
Interviewer: Four times. And how tender a lover is he?
McAvoy: [pause] …Define tender?
To continue this culture-shifting appreciation, how great is it that gay actors are finally being honored for playing gay roles? Last year at the Emmys two of the Best Supporting Actor nominees in the comedy division were gay men playing gay men (Jesse Tyler Ferguson of Modern Family and Chris Colfer of Glee) and both look likely to repeat again this year. They'll probably compete again with Neil Patrick Harris (How I Met Your Mother), everyone's favorite when-are-they-going-to-let-him-host-the-Oscars? life of the party.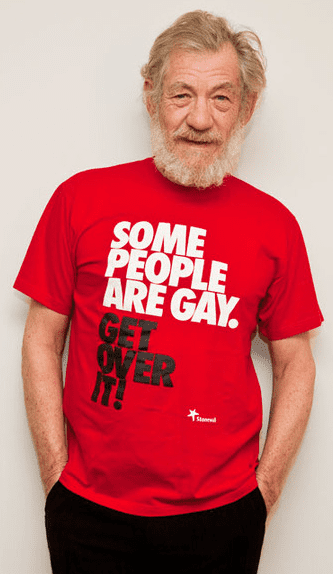 He's Gandalf and Magneto. Get Over It!
The movies are still behind TV in gay visibility but we'll get there. It used to be that if gay men played gay, they'd get tossed aside in the awards battles under what one can only assume was "oh, they're just playing themselves" ignorance. Remember how bad it was in the 1990s?  Rupert Everett's unimprovably charming work in My Best Friend's Wedding (1997) getting the boot so that Gregg Kinnear could get an Oscar nod slot for his "I'm gay so I'm saddddd" poutiness in As Good As It Gets? And the salt/wound rubbing the very next year when Sir Ian McKellen lost the Oscar as gay director James Whales in Gods and Monsters so that they could honor… Robert Benigni?
The times they are a-changing… for the better. HAPPY GAY PRIDE, Y'all.