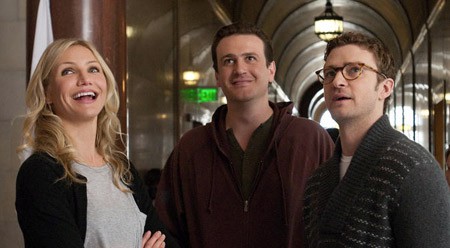 Cameron Diaz, Jason Segel and Justin Timberlake in "Bad Teacher"


NATHANIEL ROGERS
…would live in the movie theater but for the poor internet reception. He blogs daily at the Film Experience. Follow him on Twitter @nathanielr.
 
 NOW OPENING
Don't let us speak of CARS 2. It drops the formerly good name of Pixar down in a muddy field and plays demolition derby with it. There you'll find all the tired anthropomorphic humor you could hope for  — 'See they're just like us. See how that car is wearing a wig?! Oh, haHA *chortle*' — and awful pandering messages for the Ugly American in everyone. "Don't bother learning about other cultures; it's their problem if you act like a fool in their country!" The multiplex is also offering up Cameron Diaz as a man eating BAD TEACHER eager to nom-nom-nom on Justin Timberlake and, in limited release, Demián Bilcher (Che) seeks a good life for his son in the noble sounding A BETTER LIFE. 
BONUS SCENE


Let's speak of happier things. Have you noticed how last century homophobia is becoming among male movie stars? All man-on-man chemistry used to come with "but I'm straight!" punch-pulling just as all interviews with straight stars in gay roles used to come with immensely repetitive heterosexual asides so that there could never be any doubt! Now, we've got movie stars like James Franco who enjoy the speculation, movie stars like Ewan McGregor who repeatedly star in gay roles or gay appeal projects (go see Beginners) and movie stars like Michael Fassbender and James McAvoy who just enjoy their hetero bromances with no hangups. Take this fun interview wherein McAvoy claims to have had sex with Fassy four times. It doesn't come with any weird I'M ONLY JOKING humor-killing so it's totally funny.
How many times has he had sex with Michael Fassbender? 
VIDEO AFTER THE JUMP…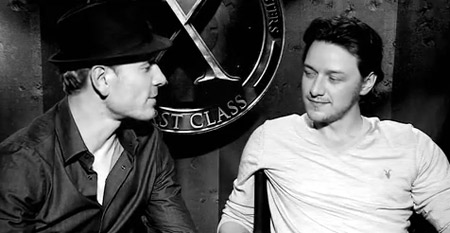 The sex talk begins at the 3:40 mark
McAvoy: How many times did you have sex with Michael Fassbender?
Interview: That was the question and what is the answer?
McAvoy: Four.
Interviewer: Four times. And how tender a lover is he?
McAvoy: [pause] …Define tender?
To continue this culture-shifting appreciation, how great is it that gay actors are finally being honored for playing gay roles? Last year at the Emmys two of the Best Supporting Actor nominees in the comedy division were gay men playing gay men (Jesse Tyler Ferguson of Modern Family and Chris Colfer of Glee) and both look likely to repeat again this year. They'll probably compete again with Neil Patrick Harris (How I Met Your Mother), everyone's favorite when-are-they-going-to-let-him-host-the-Oscars? life of the party.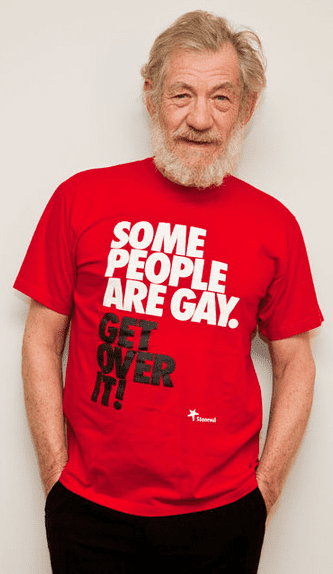 He's Gandalf and Magneto. Get Over It!
The movies are still behind TV in gay visibility but we'll get there. It used to be that if gay men played gay, they'd get tossed aside in the awards battles under what one can only assume was "oh, they're just playing themselves" ignorance. Remember how bad it was in the 1990s?  Rupert Everett's unimprovably charming work in My Best Friend's Wedding (1997) getting the boot so that Gregg Kinnear could get an Oscar nod slot for his "I'm gay so I'm saddddd" poutiness in As Good As It Gets? And the salt/wound rubbing the very next year when Sir Ian McKellen lost the Oscar as gay director James Whales in Gods and Monsters so that they could honor… Robert Benigni?
The times they are a-changing… for the better. HAPPY GAY PRIDE, Y'all.