The latest report following a meeting of Governor Andrew Cuomo, Senate Majority Leader Dean Skelos, and Assembly speaker Sheldon Silver from the Times Union's Jimmy Vielkind: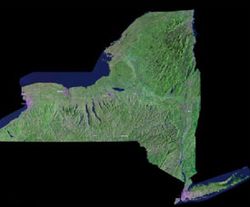 "We're closing the few, outstanding, technical issues on rent regulations," said Skelos, R-Long Island. He predicted action on everything "hopefully today but certainly by tomorrow."
Skelos also hinted that his conference and Cuomo are close on amendments to the same-sex marriage bill that would further clarify protections for religious organizations. "My colleagues and [the governor's] counsel's office are looking very closely at religious protections and I think they will conclude that. Once we have final legislation we'll discuss it in conference," Skelos said.
For the first time, Silver said he saw a draft of the amendments, and is agreeable on the concepts. He said a vote could be held tonight "if the Senate says they're doing it and they agree on it."
And this, from the AP:
"Democrats and Republicans emerged from meetings with Democratic Gov. Andrew Cuomo and said there is progress toward proposed additional religious protections that could bring a gay marriage bill to the Senate floor for a vote as early as Wednesday night. No deal had been struck as of Wednesday afternoon."
If you missed my earlier update, you can read it here.